Project Gallery
Filed under Gallery
Client's Tax & Financial Update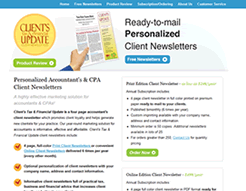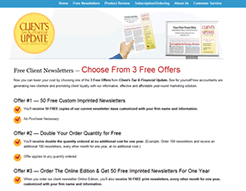 Client's Tax & Financial Update markets customized newsletters for accountants. This e-commerce web site was suffering in search engine rank results. In collaboration with CoreSmart Interactive, LLC, we implemented a Search Engine Optimization and Marketing plan including paid marketing campaigns, an updated web site design with Flash animation and easy navigation. Search engine results have been in the top 10 for chosen keywords.
Services Used: Custom Web Site Design, Search Engine Optimization, Search Engine Marketing
Web Site URL: http://www.yourclientupdate.com
Have your site profiled here. Become a Blue Dog Web Design client today.