Project Gallery
Filed under Gallery
Snoring & CPAP Intolerance Center of Northern Virginia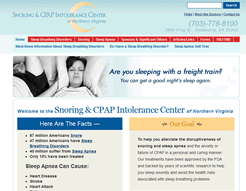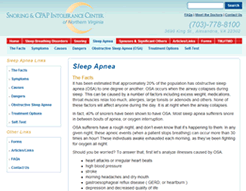 Dr. Richard Miller, a dentist for over 30 years in Northern Virginia and author of the book, Beating Bad Breath, contacted Blue Dog Web Design to create an easy-to-navigate, professional web site outlining must-know information and available treatment solutions for individuals suffering from sleep breathing disorders. The NoSnore-NoCPAP.com web site was created using a Content Management System for better information organization. As a convenience for new patients, downloadable PDF forms, a Site Search and Google Map were implemented into the site.
Services Used: Custom Web Site Design, Content Management
Web Site URL: http://www.nosnore-nocpap.com
Have your site profiled here. Become a Blue Dog Web Design client today.